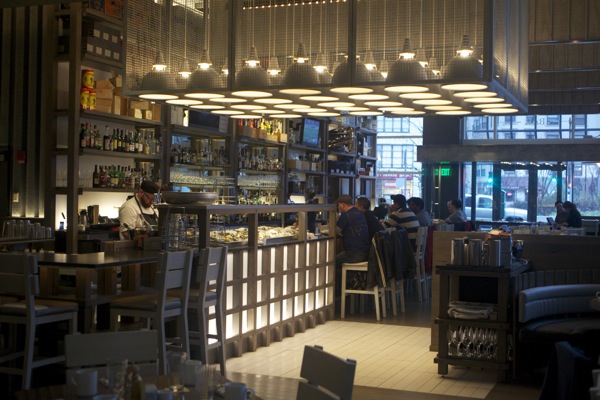 The South End of Boston has earned a reputation as the restaurant capitol of the city. And, when you sample some of the eats here, you quickly see – and taste – why that is. From multi-course, fine dining experiences to the tastiest hidden gems in the neighborhood, try these South End Apartments recommendations for the best places to eat in the South End.
Get an ice-cold beer and flawless appetizers at Anchovies.
Every Boston neighborhood needs a local pub with amazing food. In the South End, that is Anchovies. Boston Magazine agrees – they awarded Anchovies Best Neighborhood Restaurant in the South End. The beer and wine selections are sure to please, but the strong cocktails are also popular. And the menu is truly divine. Anchovies' heavy, garlicky Italian fare hits the spot after a long day. You cannot go wrong with some seafood, like the clams and mussels. And, locals attest to the meatballs being a standout on the menu.
Upscale seafood with a local, friendly vibe at B&G Oysters.
Looking for New England seafood classics in a more upscale setting? You cannot go wrong with B&G Oysters. On a warm summer day, take a seat on the patio and enjoy succulent oysters, a lobster roll on a buttered and toasted bun, or a seasonal selection with your cold glass of wine. They even offer oyster shucking lessons. B&G Oysters strikes a balance between a dignified and friendly atmosphere. But what really makes it one of the best places to eat in the South End has got to be the fresh, tasty seafood.
Metropolis is a cozy Mediterranean bistro for your next date.
Boston is known for tasty Italian food. Metropolis offers red sauce staples to warm you up during a Boston winter, plus Mediterranean Italian dishes to liven up the menu. Drop in for brunch with friends, or bring your dinner date to one of the dark, romantic corner tables. The wine list will wow you as much as the food. And, do not forget to order dessert. Few restaurants do so many things right, which is why Metropolis is one of the best restaurants in the South End.
Creative takes on Chinese classics at Myers and Chang.
With bonsai trees and stylized tigers adorning the glass walls, this hip South End spot serves up trendy takes on Taiwanese and Southeast Asian dishes. There are plenty of vegetarian options, yummy, light sauces, and lots of weekly specials. Try their weekend dim sum, or drop in on a Monday or Tuesday for a "cheap date night" special. You cannot go wrong with spicy, creative dishes at Myers and Chang, one of the best places to eat in the South End.
Colorful, flavorful South American eats at Orinoco.
Orinoco has won all kinds of Best of Boston awards. And, when you taste the braised beef, you quickly understand why! The dishes originate from Venezuela, Guyana, and other countries in the region with plenty of beans, meat, and queso in their cuisines. A tequila concoction from the bar pairs perfectly with any of the spicy menu selections. And, the Sunday brunch is also quite popular.
The South End's own modern French bistro – Aquitaine.
French cuisine is all about making a simple meal into an experience. Aquitaine distinguishes itself as one of the best places to eat in the South End by living up to this promise. Well-dressed, knowledgeable wait staff help relaxed guests find the perfect menu items for their tastes. But, really, it is hard to go wrong with this menu. It is full of truffles, creams, and other rich sauces. If a full dinner is not in the budget, go for lunch and enjoy one of their fantastic, filling sandwiches. Or, order a lovely dessert and glass of wine at the bar. However you choose to enjoy it, you will feel welcome at Aquitaine.
Colorful tapas and sangria at Barcelona.
Aptly named, Barcelona transports diners to Spain with its fresh and lively tapas and Spanish hospitality. If you are looking for a quiet, intimate dinner, then Barcelona is not the place for you. The dining room and patio are forever abuzz with a diverse and energetic crowd. Since the menu is so varied, it is a good thing Barcelona is a tapas restaurant. Order a wide variety, not just to sample all the flavors, but because you might find your appetite expanding once you get a taste. With its stiff and flavorful drinks, friendly atmosphere, and delicious menu, Barcelona is definitely one of the best places to eat in the South End.
For great steak at a reasonable price, go to Boston Chops.
Locals agree that there is nowhere else to find a top-tier steak for a reasonable price. Boston Chops has all the cuts you crave – from rib eye and filet mignon to more adventurous options like grilled herb marinated heart and braised tripe. Plus, a raw bar, a drink bar, and all the classic sides. With the perfect blend of modern décor and steakhouse staple dishes, Boston chops is one of the best restaurants in the South End.
Pop-up menus and old-fashioned libations at Wink and Nod.
For the 21+ crowd, Wink and Nod is a unique and fun dining experience. It is an old converted speakeasy with grand chandeliers and a gold, reflective ceiling. The charming bartenders serve up 1920s-era concoctions while the menu rotates, every six months, between creative international chefs. So, Wink and Nod is not just a great place to get your Gatsby on. It is also a chance to sample plates from rising stars of the Boston culinary scene before they hit it big.
Drop into Picco Restaurant for some of the best pizza and ice cream in Boston.
Picco Restaurant on Tremont Street offers an impressive array of salads, sandwiches, and even carnitas tacos, but locals specifically praise their pizza. If you are looking for an affordable and super tasty pie, Picco is your place. They do take out, but to get the full experience, get a table, order a meal, and get ice cream for dessert. Their ice creams and sorbets are the talk of the town, all locally made and in an ever-evolving array of flavors. With satisfying pizza and treats at reasonable prices, Picco Restaurant is one of the best places to eat in the South End.