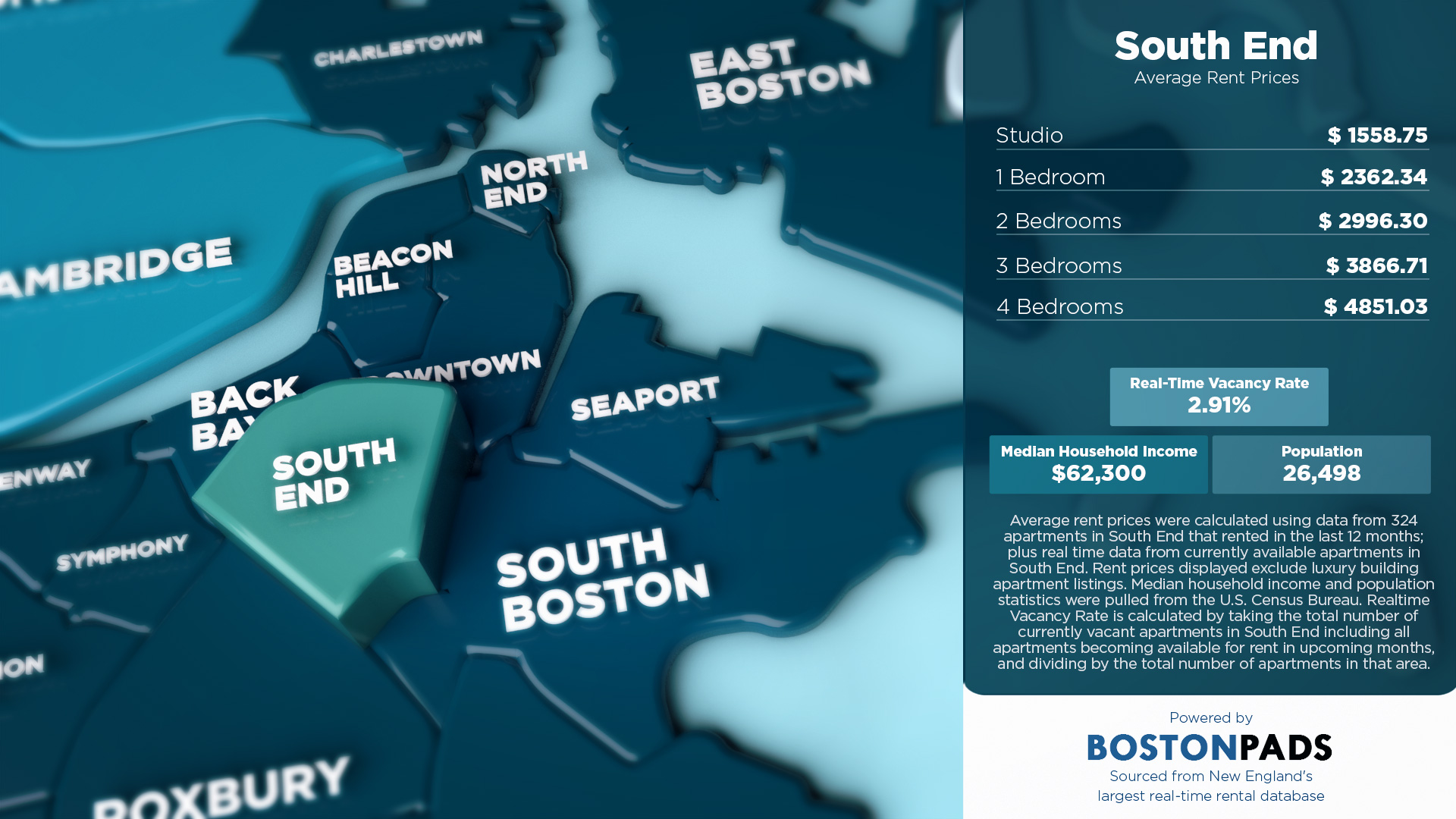 South End Apartments has just published an infographic showing average rent prices for studios and apartments with up to 4 bedrooms.  This data was pulled from the Boston Pads database, which contains over 156,000 Boston apartments, 500,000+ property photos, and 8,000+ apartment videos.
The real estate site calculated these average prices from 324 South End apartments that were rented in the last year or are currently listed.  South End Apartments found the real time vacancy rate by adding the total number of apartments that are currently available to the amount of units that will become available in the next few months, and dividing by the total number of apartments in South End.  The latest population and income data came from the U.S. Census Bureau. 
Rent prices in the South End are relatively high compared with other towns and neighborhoods in Greater Boston.  Average rents in the South End far exceed those of South Boston.  A 1-bedroom apartment in the South End costs about $400 more per month than in South Boston.  The difference jumps up to $500 for a 2-bedroom, and nearly $1,000 more per month for a 4-bedroom apartment.  
However, compared to Back Bay, which borders the South End, rent prices are slightly less expensive.  Renters can expect to save anywhere from $100 to $200 per month if they choose an apartment in the South End rather than Back Bay, whether it is a studio, 1-bedroom, 2-bedroom, 3-bedroom, or 4-bedroom apartment.
| | | | |
| --- | --- | --- | --- |
| BEDROOMS | SOUTH END | BACK BAY | SOUTH BOSTON |
| Studio | $1,558.75 | $1,715.34 | $1,409.67 |
| 1 Bedroom | $2,362.34 | $2,444.46 | $1,952.44 |
| 2 Bedrooms | $2,996.30 | $3,196.41 | $2,510.14 |
| 3 Bedrooms | $3,866.71 | $3,919.28 | $3,303.86 |
| 4 Bedrooms | $4,851.03 | $5,066.00 | $3,923.35 |
Overall, the South End ranks high among the most expensive neighborhoods in Boston.  Compared to the other 22 neighborhoods analyzed, the South End has the 3rd highest average rent for both 1-bedroom and 2-bedroom apartments, the 5th highest rent for 3-bedroom apartments, and the 4th highest rent for 4-bedroom apartments.  With so much buzz and new development in the South End, it is to be expected that this neighborhood will remain one of the more expensive in Boston for the foreseeable future.  
About Boston Pads
South End Apartments is powered by the Boston Pads database. Boston Pads makes information like this easily accessible through a professional data and updating staff as well as licensed real estate agents seven days a week.  Landlords, property managers, and renters alike can get a close look at the rental market in any neighborhood, whether they need to know current rent prices, vacancy rates, trending topics, or some other data. Boston Pads uses its database to help local landlords optimize rental income and minimize vacancies.  
With this data-driven and hyper local approach, Boston Pads built a network of Greater Boston landlords to over 16,000 strong. Those landlords who list with Boston Pads ensure themselves the widest marketing coverage from one source. All Boston Pads listings are syndicated to the largest possible audience, including major national platforms like Zillow, Craigslist, and Trulia, more than 80 geographically targeted real estate websites, and over 100 locally focused social media pages on Facebook, Twitter, and YouTube. 
By providing the most comprehensive marketing tools and the latest data, Boston Pads has positioned itself as the real estate and information technology leader in New England.  The Boston Pads platform is highly scalable and adapts to any market. It can be utilized by any agency or landlord looking to gain access to marketing and real estate tools to enhance their business operations.  
To see the average prices for more towns in the Greater Boston Area, check out the infographic on average rent prices in Boston by town.
See a full infographic on average rent prices in Back Bay.
See a full infographic on average rent prices in South Boston.